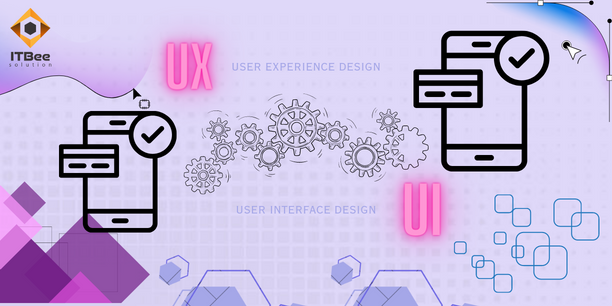 A Golden Solution to Create Best UI & UX Design for Appealing Your Business 
Fascinating with Functionality! The tech industry realizes the importance of UX/UI Design. Explore the fascinating realm of user experience to see if you have what it takes!
We are at a beautiful age of design, with new methods and fads appearing and disappearing. With more developers interested in UI/UX design, front-end development is also gaining traction.
ITBee Solutions is an IT service company based in Philadelphia, United States. It houses remarkable projects every year, implementing all the new trendiest UI/UX design courses for clients all over the globe. 
For employing the best and most varied graphical design solutions, which are essential for branding and marketing, get in touch with our skilled graphic design team. Alongside, you can get services for virtual assistants, web design, web development, SEO and digital marketing, etc.
Although UI and UX design gets weighed up, they are essentially distinct from one another, and newcomers should be aware of this.
UI Design, How Things Appear

How Things Work with UX Design

Difference between UI and UX Design 
Knowing the questions can be eye-opening for beginners, we conducted an extensive study and produced a detailed guide on the crucial elements of these two enormous domains: Read to find out.
What is UI Design? How Things Appear
An application's graphical layout, including icons, screen layout, transitions, micro-interactions, animations, and other elements, is referred to as its user interface (UI). 
In essence, it is all about how things seem. It is the image of a site, inviting clients and distinguishing all its functions to the eyes.
User interface, or UI, in this context, refers to the design of the interface, which may be visual or mainly constructed using languages like;
A user interface's design decisions attain simplicity, clarity, and empathy. The user will leave if the website design is difficult to read or unclear!
Included in UI design are the following modes:
Graphical User Interface (GUI): The way users interact with a system's aesthetics & digital control panels reflect on GUI design. The desktop of the computer is an illustration of a GUI.
Voice-controlled Interface (VUI): VUI design focuses on voice-based user interactions with systems. VUIs include digital personal assistants like;
Gesture-based Interface: Virtual reality (VR) and other gesture-based design scenarios that deal with user participation in 3D areas mostly use this variety of interfaces. 
Some qualities to take into account for successful UI design:
The style assists people in efficiently completing tasks. Task completion must be simple and easy.

It ought to be pleasurable, satisfying, and not frustrating.

The UI design should convey the organization's or company's brand value.
What is UX Design? How Things Work
User experience (UX) design considers how people engage with the platform. UX design includes logical navigation and how easy and seamless the journey is. In a nutshell, this kind of design enhances the user experience.
Here are the main steps in the UX process to give you an idea:
Interaction Design: How users use a system's interactive elements to execute tasks quickly and effortlessly is the subject of interaction design (page transitions, animations, buttons, and so on).
User Research: Extensive research conducted, ideas and input gathered from potential and current consumers, end-user needs understood, and design choices are all made by these criteria.
Information Architecture: With this, information and material users require to complete their tasks gets sorted out. For this reason, a UX designer must comprehend the connections between various sets of content and display them most understandably feasible.
You should adhere to the following guidelines for good UX design:
The product ought to be intuitive, rational, and simple to use.

User issues need resolving by the product.

A broad spectrum of people should be able to use and access the product.

The user should have a beneficial experience using the product, enabling them to do tasks without getting frustrated.
What Distinguishes UI and UX Design Primarily?
Sometimes, the terms UI and UX design get used synonymously. Although both design techniques must contribute thoughtfully to the final product, the process of creating UI and UX is vastly different.
The majority of UX design concerns itself with the user's complete problem-solving process. On the other hand, UI design concentrates on how the product appears and feels after a problem gets resolved.
The following are the primary distinctions between UI and UX design:
Primary Focus: The quality and appearance of the finished product are the main concerns of UI designers, who often use high-fidelity models as prototypes. UX designers are more concerned with logic and pay greater attention to the intent and usefulness of the finished product.
UX designers concentrate more on project management and analysis than UI designers, who deal with the technical aspects of product design.
Utilization of Color: UX designers create prototypes in three colors, black, white, or gray, while UI designers create them in filled colors.
Tools: For collaborative picture design, UI designers utilize programs like;
Flinto, 

Principle, 

Sketch. 
Tools for wireframe-based prototyping, like Mockplus, are used by UX designers.
Artistic Flair: Since it affects what the user sees, hears, and experiences, UI designers must incorporate a creative element into their designs. Because the designer must consider what a user wants from the finished product, UX design has a compelling social component.
Conclusion, Time To Test Out The Design 
Understanding user needs is necessary for both user interface and user experience design.
Once you have this knowledge, front-end development and design don't have to be strenuous endeavors; many pre-made parts, tools, and kits can make the style simpler and more efficient.
ITBee Solutions offers a vast selection of UI/UX solutions. Making clients happy and satisfied with appealing designs is the goal of our firm. 
That is how designing works: appealing to the eyes with a touch of functionality!