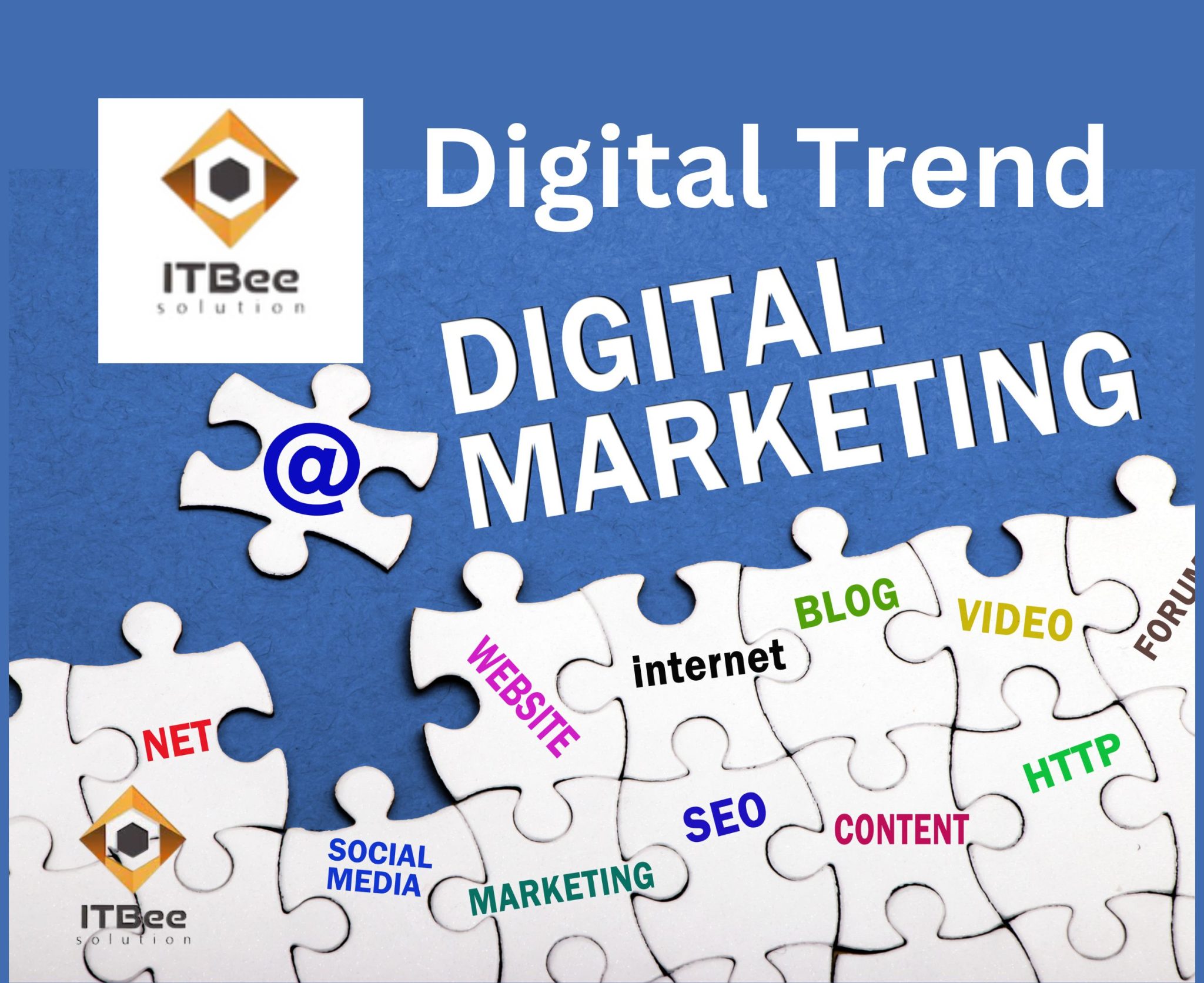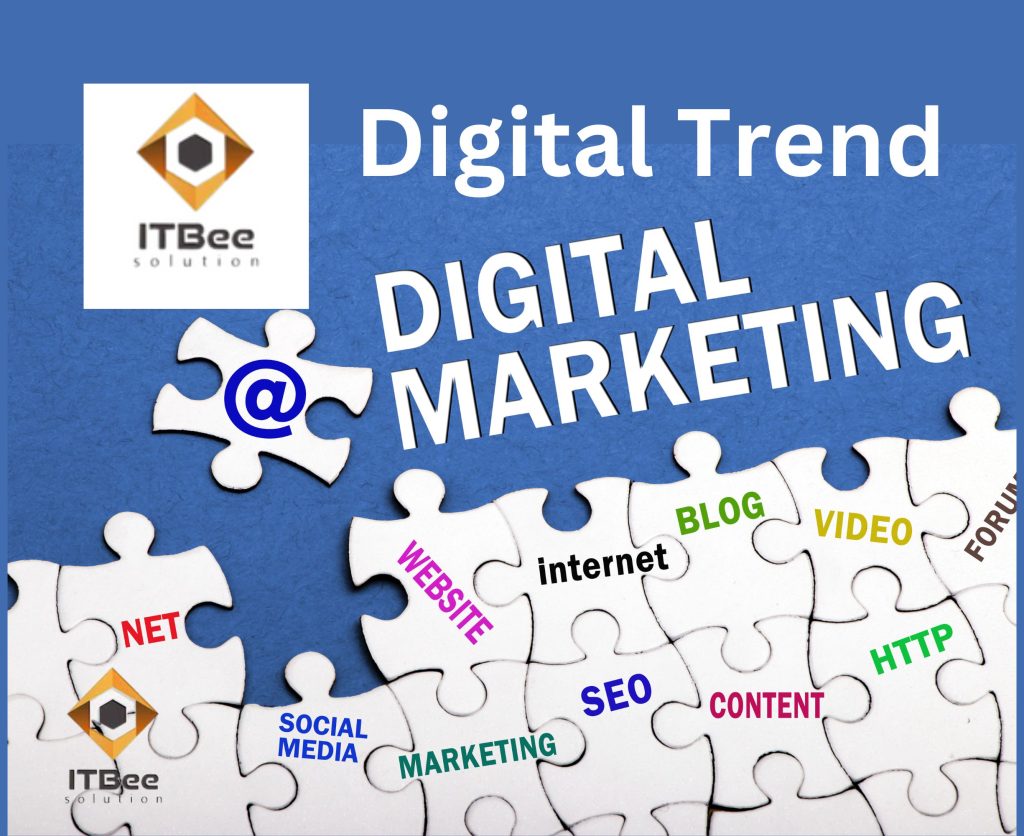 Most Notable Digital Marketing Trends with Philadelphia IT Bee Solution Team support method
Digital Marketing Trends the most Traditionally Digital Marketing campaigns follow B2B and B2C types of Strategy. 
Google search results show 6,139 Digital Advertising Agencies businesses in the US as of 2022, an increase of 12% from 2021.
So, creating any primary or traditional method or IDEA playing in a DM Campaign is not easy. 
Now in the Metaverse world, the fastest and creatively most smart Creative IDEA can Increase Organically.
1. An Increased Use of Chatbots with Digital Marketing Trends
Many people research a lack of desire to shop and stores; Chatbots have increased over the past few years. That is only due to an increase in demand.
Chatbots have improved in terms of realism and real life, like in recent times, providing users with a better user experience. 
Additionally, advancements in the subject of Artificial Intelligence (AI), and Machine Learning (ML).
As well as the use of natural technology for processing language (NLP) and analysis of customer sentiment has improved the capability of chatbots to engage with users in a more human way. 
That means that companies are working to improve the customer experience to their customers with no significant investment.
According to Tidio, it revealed that 88% of their customers had had at least one interaction with a chatbot in 2021. 
Their study found that apart from marketing and customer service, chatbots also employ in different areas: 
Gathering data
Managing human resource management
Operations
Chatbots are now a desirable alternative for stores selling:
eCommerce and B2B firms
Real estate companies
Even healthcare
2. Conversational Commerce is Becoming an Increasingly Popular Digital Marketing Trend
The Customer Experience (CX) becomes more crucial.
Many consumers are willing to spend more money on products and services if provided with a high-quality experience rather than offering the lowest price. 
Conversational commerce is a great way to improve the experience of customers.
Conversational commerce (aka chat commerce) utilizes messaging platforms and communication apps like:
To promote products, connect with customers, and assist at every sales funnel stage.
Companies are seeing how many of their customers are using messaging apps. As with most of their conversations, many consider it a natural progression to communicate with brands.
WhatsApp alone had more than 2 Billion users at the beginning of 2022.
3. Voice Search is Becoming Increasingly Popular in Digital Marketing Trends
Generation Z, in particular, is not the most significant keyboard user. 
Sure, they grew to use electronic devices. 
However, if they can stay away from using keyboards, they'll. The number of search options for voice is increasing to the point that it is now the primary input method for many. Here below: 
Those have become regular features. In the year 2018, PWC found that people utilized speak commands with their below:
Smart Phones 57%
Tablet and Computers 29%
Laptops 29%
Desktops 29% as well as speakers 27%
TV remotes 21%
Car navigation 20%
Wearables14%
The use of voice commands has grown significantly since then.
Surprisingly, it's not only young people who embrace the convenience of voice searches. 
For instance, 65% of those aged 25-49 have devices that support voice chat and converse with the machine at least once daily, while 57% of people aged 50 and over.
Gartner has discovered that by 2020 the internet's 30% of browsing sessions were not screen-free. 
That indicates a change in how people interact with brands on the internet. Users of voice search are increasingly looking to find local listings. 
According to Google, searches for "near me" businesses have risen dramatically over the last couple of years. 
Google says as high as 58% of users have found local businesses via voice search.
Thus, companies must modify their SEO to make it more suitable to make their site more accessible to voice searchers. 
However, Our innovative team makes extreme Strategies, including:
Using natural languages with immediate responses to specific queries such as schema markup
Rich snippets of content
Keeping My Business listing and eCommerce storage up-to-date
Ensuring the content is updated and optimized
4. A Movement Towards Omnichannel Digital Marketing Trends
Brands recognize the advantages of creating marketing campaigns that span the full range of digital marketing channels. That allows them to connect with a broader public. 
Additionally, most people do not limit themselves to just one digital platform, and omnichannel marketing permits businesses to leverage the strengths of various channels.
ITBee Solution Prominence expertise always updates on future upcoming changes in Online Business Campaign and Strategy. 
The secret to omnichannel marketing is using every channel to provide a unified experience for each customer. Actual omnichannel advertising does not limit itself to only digital marketing. 
It incorporates some traditional marketing channels in the mix, recognizing that consumers are only partially digital. 
Each track is interconnected to create an overall voice and brand message
Omnichannel marketing acknowledges that people utilize a variety of channels throughout their day. 
For instance, they could start their day browsing Facebook before moving to Instagram. After that, they might go through their email. 
At this point, it's time to get to work while listening to the radio playing while they move. 
While driving home, they can visit the grocery store or shop, look up point-of-sale ads and listen to Spotify while on the move Netflix. 
In addition, they can play a show on TV or browse the internet via their smartphone or tablet during the evening. 
There are many possible touchpoints for brands to connect with customers and deliver a consistent, 
However, it is a different message.
Essential to note that omnichannel marketing differentiates from multichannel marketing. 
Omnichannel marketing requires an open connection of marketing efforts across your channels. 
For instance, you're not likely to run the same PPC ads across all your (SMM) social media platforms or bore users with repeated messages. 
Neither are your messages distinct enough that they could be considered separate campaigns. The marketing a brand provides to a client coordinates and tells an overall tale smoothly and unifies.
5. The Metaverse is Beginning to Have a Large Impact on Web Marketing
In 2021, Facebook (the business) changed its brand name to Meta. In light of the power and scale of the assets of Facebook that were not Facebook (the platform) and the separation of the platform's name from the company was logical. 
Midst of the rebranding, Mark Zuckerberg announced that the company was planning to base its future on the metaverse.
Bloomberg estimates that metaverse-related exchange-traded funds could grow to $80 Billion by 2024 with annual fees of $600 Million. The metaverse focuses with:
Encompasses live entertainment
Social networks
Equipment
User-generated content
Infrastructure for technology
It's a shared virtual world where megatrends intersect. It is a plethora of augmented and virtual experiences. 
The metaverse is where people make avatars and navigate an immersive 3D environment, interfacing with other users and the world surrounding them. The metaverse comprises platforms like:
As more people spend time in the virtual world and beyond, the distinction between the real and virtual realms is blurring. 
People are starting to interact with brands and even purchase virtual goods. 
For instance, Vans collaborated with Roblox to develop a virtual skate park. 
In this park, users can practice their skateboarding skills in virtual reality and later purchase Vans products without leaving the metaverse world.
6. SEO is Adapting; Most Powerful Organic Traffic supports ITBee Solution in Philadelphia
Google released a significant Page Experience update in 2021. The update incorporated brand-different performance metrics called Core Web Vitals into what Google typically refers to as "page experience." 
These are fundamental standards for a website's technological health. They accurately evaluate your users' satisfaction (UX) for a page that covers three major areas called LIV:
Loading
Interactivity
Visual stability
These metrics determine; how long it takes for a user to reach your website. 
How well the user interacts initially, and the user needs clarification because of inconsistencies in the layout of your site.
Page Experience update combined core web-related vitals and more traditional elements like:
Google has also highlighted its importance in its results' "People also are" section
It is currently showing on about 48.6% of search results. It is often prominently displayed ahead of the first position within the search results. 
So, as a marketing professional, ensure you include responses to FAQs (frequently asked questions) in your content.
Many of the most well-established pages within the Influencer Marketing hub have FAQs. 
Also, Google is clever enough to pick the appropriate answers, even when people want to know the content of the question is different from the site's words.
For instance, when you search for "influencer marketing," Ultimate support tops the list of Digital Marketing campaigns.
You will also find that Google has also added a "People Also Ask" section" which is the primary question
What can be an influencer-marketing example?
Google has chosen a quarter of the FAQ in Our 15 Examples of Influencer Marketing to Strengthen Your Influencer Marketing Campaign post as the most appropriate solution to this question. 
If you examine the article, you will observe that the actual query in this FAQ asks,
Feel free to Contact Us for more details.