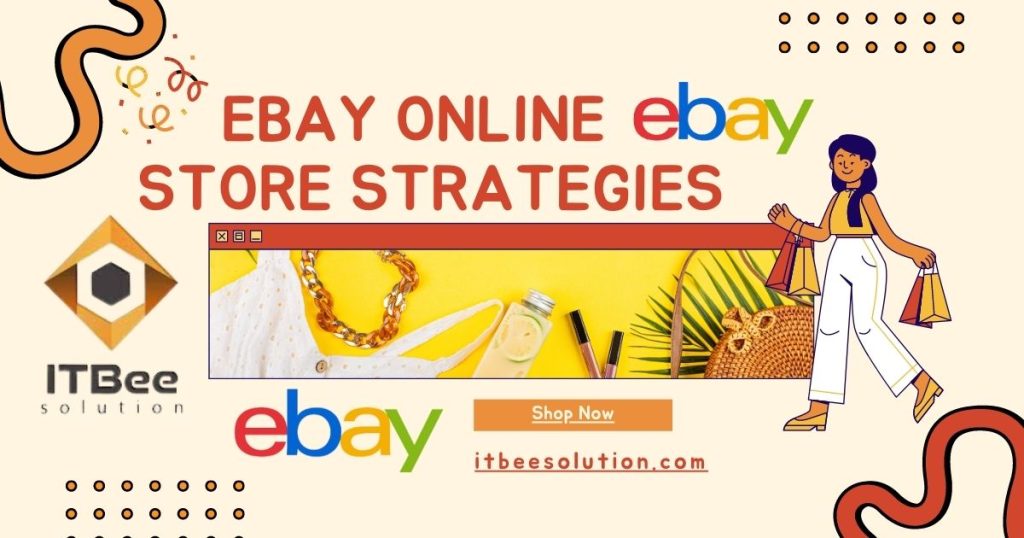 5 ways to Increase eBay Sales on other online marketplaces
eBay Sales organic increase is a great place to sell items, but sometimes it can be tough to increase sales. As an eBay seller, you know your success largely depends on how well you sell your items, so think about how you increase sales statistically better than others.
Get to maximize sales, and your eBay page must make a good first impression on potential buyers. And also, use eBay's auction features to your advantage. Use eBay to get the best price for your items.
ITBee Solution in Philadelphia is an IT Service and eCommerce Solution Company, Our expatriates eCommerce Team outline some tips on how to increase your eBay sales. First, research your competition and learn what they're selling. This will give you an idea of what to price your items at and help you find new and potential buyers. Next, make sure your listings are complete and accurate.
Top-five eBay Sales Booster Strategies to increase Organically
Tip 1. Maximize Search Engine Visibility
Using search engines to locate and discover information about anything has become a massive aspect of our daily routine.
According to the Oxford Dictionary, Google is now considered a term.
What steps can you take to ensure that people can easily find your eBay store, products, and services,
What has happened to search engines like Google since they changed the rules?
Which could have impacted previous strategies you might have employed?
Suppose you're investing in AdWords or optimizing your website to be organically indexed.
In that case, this section will review the steps to enhance Search Engine Marketing (SEM) and search engine optimization (SEO).
Begin by reviewing your baseline metrics. Then, establish achievable goals.
Before improving your organic and paid search marketing, which affects eBay sales, you must know where and how you're currently ranked.
Use Google Analytics and Google's Webmaster Tools to determine and track your primary baseline indicators and evaluate your site's SEO health.
Begin with volume-based visitor goals based on outcomes (how many people equate to the number of sales).
The most critical metrics to begin by analyzing each month are:
Sales: What is the overall impact of SEM on Internet sales?
How many visits are there, and how many are unique (new)?
Conversions: How often do unique visitors convert into paying customers?
Top traffic sources: Where are your new customers coming from?
Links to websites or referrals? Social media, media, and press (amplification)?
Cost per click (CPC) is the price of a click in paid search advertising.
The click-through rate (CTR) is the ratio of impressions to clicks.
The score of quality (QS) The amount can influence your CPC (the higher the score, the better).
After establishing your baseline, you can set reasonable goals to improve the number of visitors per month and conversion-to-sale rates.
Check out our conversion guide for tips on converting more visitors into paying clients.
Note that SEO changes can take months to produce the results you want.
Supplement your SEO strategy by utilizing paid search ads for faster SEO visibility.
When your organic search results begin to show, you can gradually reduce the cost of paid search ads. At the same time, you continue to fine-tune each one, using your data as a guide.
Tips: Need eBay Sales Products to Examine keywords, phrases, and landing pages.
Reviewing your keywords and phrases and the extent to which they are matched to their landing pages is essential to SEO and paid search performance.
The long-tail keyword strategy generally works the best because of the many pages an online shop can host.
When selling your eBay store, input the keywords you would like to use to improve your store's performance and create a feed file (an Excel file) accessible to shopping comparison websites.
When Google removed the reporting of keywords within Analytics in 2013, it was a significant blow to all SEM strategies.
There are solutions for the not provided results for search results that are not paid. Exploring your paid search traffic or paying for third-party apps are just a few options.
Google's Webmaster Tools can also be an excellent alternative to search engine optimization, unlike the other no-cost SEO tool. Here's how:
From search traffic
Navigate to Search Queries
Top Queries in the first tab include keywords that bring visitors to your website
It is then sorted by
Impressions
Clicks
CTR (click-through rate)
You can filter your search by kind—video, image, mobile, web, or all—which allows you to drill down into depth or obtain an overview.
The Top Pages tab lets you look at the same metrics on each page.
Additionally, when you click on the URL for each page, you can view the most popular keyword search terms that get people to that page.
The downside is that the data isn't linked with Google Analytics, so it's unavailable for historical reports.
It may assist you in locating keywords that will improve your landing pages' performance or revise the descriptions' content.
On your eBay listings' descriptions, compare them to AdWords keywords for continuous improvement.
What is the most basic and efficient tool for researching long-tail keywords?
Google Autocomplete. You can type away and check out.
In the case of paid search campaigns and A/B testing is crucial.
A/B testing plays a significant role in online marketing, including websites and email marketing campaigns for calls to action (CTAs) or paid search ads.
In the case of the performance of your AdWords campaign, it's essential to regularly test the keywords and ad content that are performing well or not.
Remember to plan for seasonal traffic, starting with critical retail dates, the changing seasons, and when people take holidays.
The process of testing keywords and phrases against one another allows you to gain insight into the keywords,
Search terms and the relevancy of your landing page
That will increase your quality score and conversion rates as the cost-per-click (CPC) drops.
I am staying current with SEO to boost online marketplaces and eBay sales.
The sole purpose of these strategies, tools, and tactics for organic and paid search is to drive more traffic to your eBay shop and marketplaces on the Internet.
Some factors are beyond your control.
However, they are things that you should keep an eye on and adjust your strategy accordingly.
In May 2014, Google's Panda algorithm was in the news since eBay's rank on search engines decreased significantly from June 6 to April 25.
According to the company, the cost is $200 million in a quarter, demonstrating the power of both organic and paid search, especially for a company of eBay's size.
There are many theories about; why Google has penalized eBay.
However, it is widely known that the online marketplace giant is dedicated to improving its ads and paid search tactics more precisely and focusing more on geo-targeting.
Adhere to their precise organic and paid search strategies and rely on them when developing your online promotional processes, such as SEO, web-based marketing, advertising, or social media.
You will be in charge of the sales for your business and the connections with customers.
Increase your eBay sales by creating informative content about relevant products.
In terms of organic search, be aware of Google's increasing focus on the quality of the content.
You will not only reap the benefits of SEO but also make good business sense by attracting prospective customers to your online store.
eBay stores or any other marketplaces for online shopping increase productivity.
Focus on social media marketing to boost visitors.
The white paper will discuss developing compelling content and a social media strategy.
Before that, let's quickly review SEO basics and techniques to boost the rank of your search engine results page organically.
On-Page SEO: Ensure that everything on and behind your site is optimized for search engines. That includes
HTML tags
Meta descriptions (what search engines see in SERP descriptions) and positioning
Keyword content
Interlinking
High-quality copy
Create appropriate page titles that contain your keyword(s) while keeping the length to a minimum of 65 characters.
Ensure your permalink structure is optimized to directly mirror your page's title and content.
Utilize Google Analytics, Google Webmaster Tools, and other SEO tools from third-party sources like SEO Doctor, a Firefox plug-in that scores pages and suggests improvements.
Off-page SEO (link building) It's about having high-quality external links that drive customers to your website or store on eBay.
By doing this, you increase your website's credibility in search engines' eyes and boost your site's search results, which is a crucial aspect of improving your search engine optimization efforts.
Tips 2: Develop a Dynamic Content Strategy
One of the best ways to attract increased visitors to your site is to entice them by providing captivating content that complements your product offerings and aligns with the brand.
Engaging content that benefits potential or existing customers can help increase traffic to eBay sales.
Think about the market you are serving best. How can you develop knowledge and thought leadership?
So you're the most trusted advisor and the go-to source for people looking to buy?
While considering possible topics, look at how your product can solve an issue.
Then, develop a story about how it can solve the problem.
For instance, an eyeglass store could create a style guide that offers guidelines on what styles would work with different shapes of faces and colorations.
A retailer of guitars could create a collection of instructional videos or even a blog that contains the most recent news and reviews of new guitar models.
In cases like this, a white paper providing eBay selling tips and ways retailers can use the Internet to benefit.
ITBee Solution in Philadelphia understands how difficult it is for small-business owners to deal with customers.
There are dozens of challenges in retail every day of every kind, and our knowledge and our software solutions can assist in solving the majority of their business challenges.
Apparel brand Oaklandish can do this with fantastic success.
By tapping into their customers' love of fashion, the local community, and 'geo-pride," their team continuously creates engaging non-product-related blog posts to draw them in.
We allow users to sign up for their newsletters via email, providing another avenue for interaction. They also distribute their content through their newsletters and social media channels.
Also has then promoted on its website: a full-circle content strategy with everything linked to the next.
Let your imagination run wild as you design and develop your content strategy.
Content can be in various forms, including videos, blogs, best practices, buyer's guides to catalogs online, images posted on Instagram and Pinterest, webinars, ebooks, and webcasts.
You can even be a guest blogger on other websites that match your business and the target audience.
A well-planned content strategy can transform your eBay and online shop from a site that sells products into a place for your customers, who will continue to return.
It's also a bonus that it could have a viral effect.
Since customers and other fans connect to your website from their blogs, websites, tweets, and social media sites, the number of new visitors who discover you increases.
A well-planned content strategy can help the success of your SEO efforts by generating high-quality inbound links and increasing the number of keywords you include.
That improves your SERP ranking by bringing in returning and new traffic.
Suppose you're wondering what's most popular with shoppers on the Internet within your specific categories.
In that case, you can utilize Google Trends to add new subjects and keywords that connect to your business and your offering.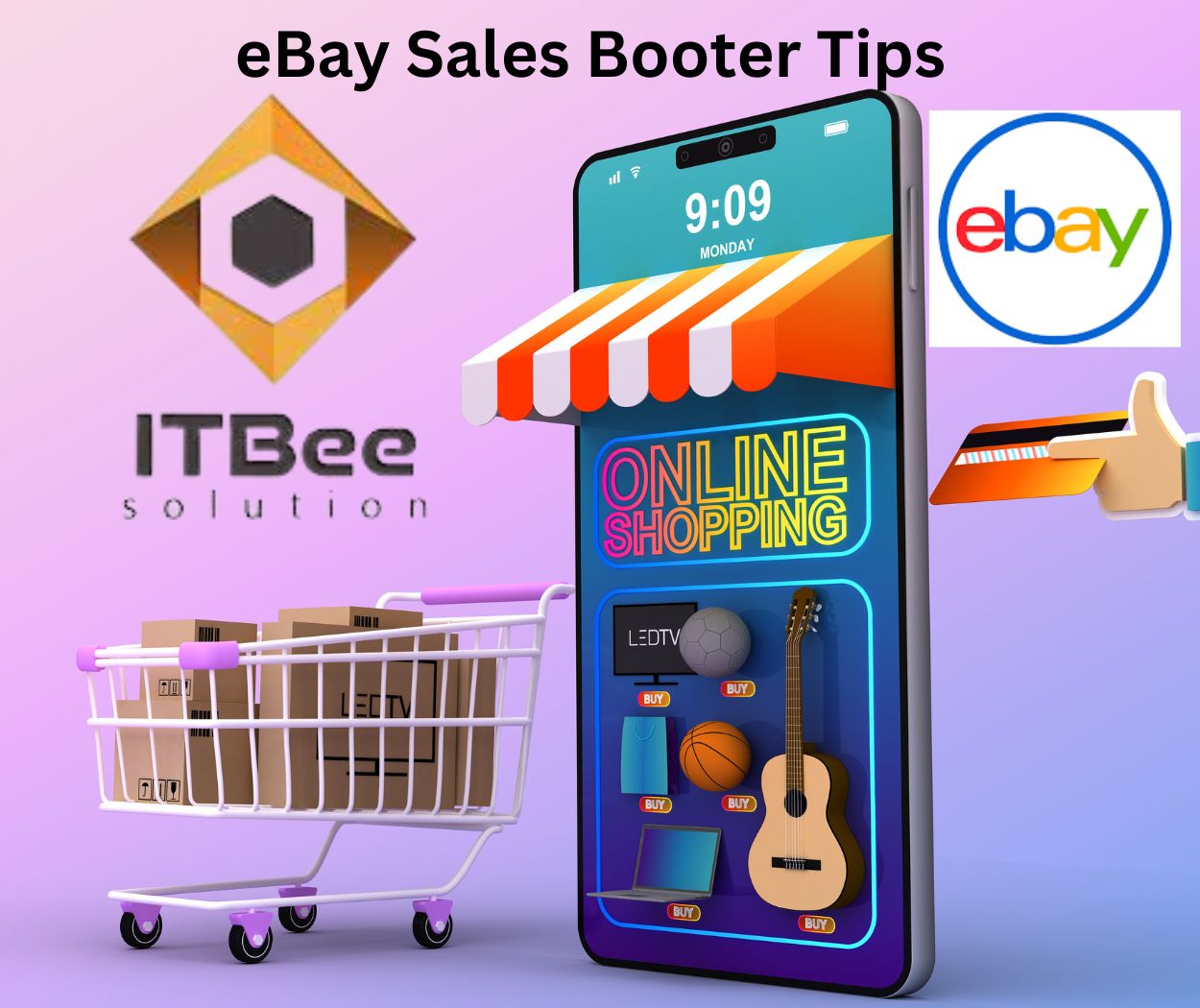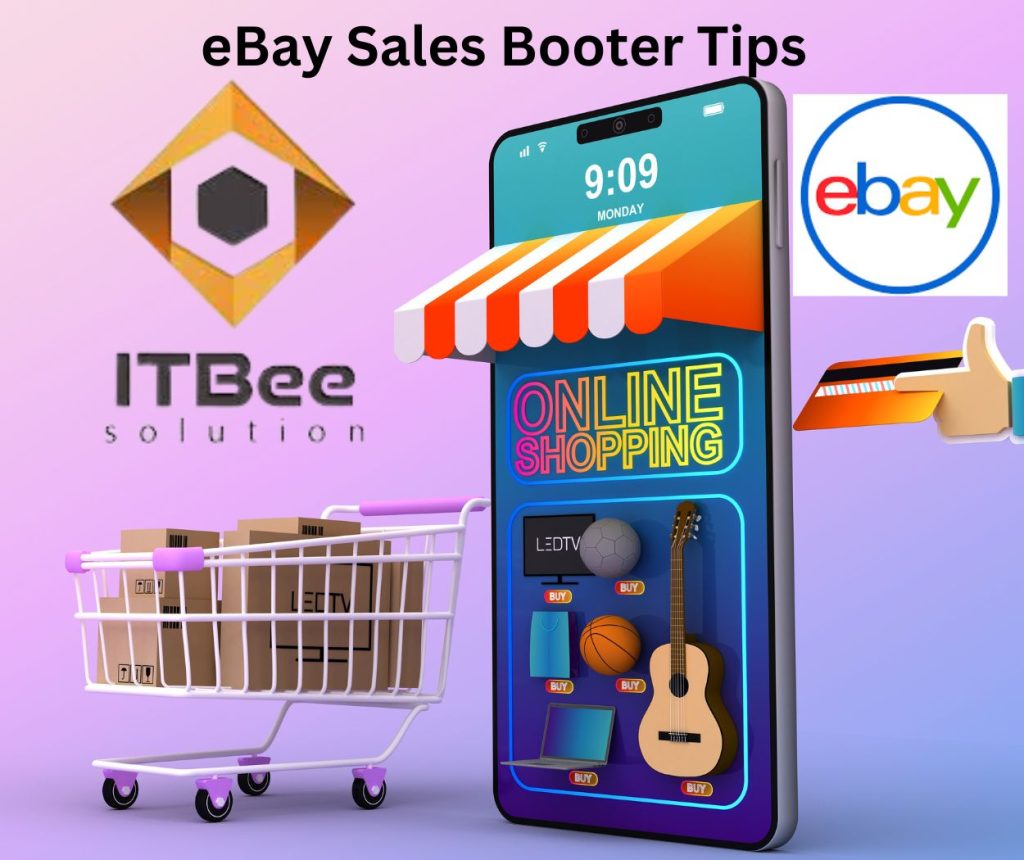 Tips 3. Leverage Social Media
Creating remarkable content will accompany distribution across your social media channels.
It's the perfect method to promote your content without causing any inconvenience and to build personal connections with your clients.
Other aspects that you can incorporate into your strategy for social media that will increase eBay and sales online include:
You were sharing third-party content related to your brand or product (like "weather" if you sell bike equipment, news of an event for the holidays, or a range from a partner)
Images: not only on social networks that focus on ideas but also on Facebook and Twitter, have been found to have high levels of engagement
Please take a look at the social media ads. We'll discuss this in the white paper. It can be an alternative channel to current online ads
Every channel comes with its strengths and benefits. Here's a brief overview of each
Exclusive Article; 9 Simple Ways to Boost Your Social Media Marketing Strategy
Facebook is a Great SMM Tool
Your Facebook page lets you interact with customers, share information, announce special deals, and draw online buyers.
You can boost your posts by utilizing Facebook's advertising features to increase their reach and visibility.
News Feed placements for specific campaigns, and both focus on particular groups. Advertisements can be seen in your desktop news feed, in the desktop right column of Facebook, and on mobile devices in the news feed.
Twitter Support Increases eBay Product Sales
Twitter changed from an instant, two-way information feed to a new avenue to increase sales online in the past year.
During the last holiday season, Twitter reported that 94% of its users in the UK engaged in mobile commerce.
Alongside using Twitter to attract new visitors by marketing new products and offers and new content (videos, images, and blog post links to webinar invitations) to your audience, you should consider using it as an additional option in your arsenal of advertising.
Twitter ads can increase conversions and clicks on websites and find leads by capturing email addresses based on your objectives.
Youtube Promotion eBay product booster sales increase
One of the biggest trends in digital technology for 2015 is the degree of engagement with video, particularly on mobile.
YouTube is a great traffic source and is the second-largest search engine after Google.
This social network can handle over 100 hours of video content uploaded every minute.
Your goal of producing high-quality, engaging, informative, and entertaining content is reaffirmed. It allows you to be noticed by your viewers, review and demonstrate new products, and promote customer testimonials.
Make sure to publicize events such as store parties.
It is a chance to connect with specific YouTube viewers, share the content on other channels, and use it on your site.
Add links to your site and your eBay product listings in the description.
Use text that contains long-tail keywords.
Instagram is the most effective platform for eBay sales marketing.
In 2014 Instagram Journey Start, the photo-based social platform (owned by Facebook) had over 300 million active users and approximately 75 million daily users.
When you're producing captivating images that you can use for your eBay store or any other marketplace on the Internet,
Why not post them on Instagram to access this active group of people?
Utilizing the exact strategies to attract more buyers to share your photos, show your products in the appropriate lighting and action.
Include hashtags that align with your Twitter or Facebook post and your keyword strategy.
Suppose you're filming a video at an event. In that case, you can use your smartphone to shoot similar things for Instagram, but remember that the maximum is 14 seconds long.
Liberty London uses Tapestry, the app accessible on the iPhone for fashion lovers and fashion, to give Instagram customers in-store "points and perks on your phone with lots of little extras."
Bloomingdales has launched the hashtag #Zoomingdales on Instagram to advertise their Christmas gift guide.
Pinterest is one of the Pioneering Social marketing for eBay
Another popular photo-sharing website for shoppers online is Pinterest.
A pioneer in the field, Nordstrom, says, "Each month, customers engage with our Pins hundreds of thousands of times, generating millions of impressions and significant site traffic and demand."
Adding a Pin It button to your site's product pages allows users to show their tastes. It gives you coveted advertising opportunities through word-of-mouth.
In addition to those eBay product pages, which contain a Pinterest button,
Tips 4. Expand the reach of your advertising.
We've already covered Google AdWords along with social media ads.
If you can afford it, you might look at other offline and online advertising options that have been used for a while.
However, it's still viable for generating brand awareness and attracting online buyers.
Google Display Network Can Increase eBay Sales
Google Display Network (GDN) lets you set up and manage, track, analyze, and improve the effectiveness of ads shown on member sites using your Google Adwords account.
Through its built-in display ad maker, you can even design attractive advertisements for display, including images, text, and video.
Another great feature of the GDN is its remarketing feature.
It allows you to market specific products to customers who've visited a particular webpage on your website but haven't purchased.
For instance, customers who had abandoned their shopping carts may be enticed back by seeing the product they were previously interested in on GDN.
That is a hugely sought-after method of increasing the effectiveness of campaigns and increasing the ROI.
Online Advertising; Great Idea Increase eBay Sales
Traditional online ads are an excellent method to increase your visibility online. Campaigns are coordinated through direct contact with the media website owners or through a buying agency that may be able to negotiate better rates for you.
They will, however, receive a portion of the expenditure (usually about 15%) as a commission.
Banners (MPUs or leaderboards, skyscrapers or leaderboards) are the most common type of on-site advertising.
They can be as simple as static GIFs or as complex as animated Flash banners.
Learn the best practices for banner advertisements, and keep their design simple, focused, and with an easy call for action (CTA).
Choose websites for your media that match your market.
Learn more about the size and demographics of their readership on the Internet, their pricing for cost per click (CPC) or cost per impression (CPM), and if they have an assurance of leads.
A media owner's rate card price is usually a good starting point. It's advisable to bargain for a price.
Supported Article; The Best eCommerce Service for Busy Businesses
Print Advertising; Make eBay Sales Booster
Print advertisements have decreased steadily since the advent and popularity of the Internet. But it's still an option, and it can be offered as an element in an online media agreement or as an element of a public relations campaign.
Here are a few simple methods to maximize your returns:
Ensure you target your media by identifying the publications your clients are reading
Make it easy for readers; they expect you to understand the concept within seconds
Be positive
People are responsive when they receive positive feedback
A clear call to action Make sure you provide the reader with your next steps
Next step: shorten URLs or use QR codes.
Find honest reviews or coverage for your company or products in the publication simultaneously to increase exposure and strengthen the message.
Tips 5. Other ways to increase sales on eBay
Alongside linking every listing you have, your About Me page, and your email address to and from your eBay shop,
You might want to consider cross-promoting with fellow eBay sellers offering similar products.
It's completely free and will give your business more exposure on eBay.
Use the Related Offers feature on eBay, which encourages buyers to include complementary items like lens caps for cameras or a hat with an outfit in their purchase.
You can choose which items you'd like to market as related items and any discounts you wish to give them if they purchase several items.
That is a great way to cross-sell products and increase the money you earn per customer.
Auctiva's shopping window creates a free eBay scrolling bar for products displayed on the right side of every page, along with scrolling images of other items you can offer for sale.
According to Beonon, the gallery can boost sales by 18%.
Conclusion about Strategies to Increase eBay Sales.
The market for online shopping has seen constant growth over the past few decades and shows no signs of slowing.
That is fantastic news for you. It also means it is becoming more of an obstacle to staying ahead of the pack.
Focusing on your uniqueness, your brand, the persona of your business and its employees, your products, and how people appreciate them are your greatest assets.
Having any Quries and Suggestion feel free Contact Us, Our eCommerce Solution team willingly support what about need.